Weather Info
Current Weather

Seasonal Rain Totals
Weather Station Info
Vantage Pro Model

Location Map

Weather Related Activities
Weather Spotter Information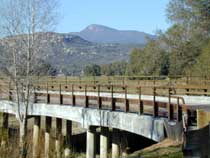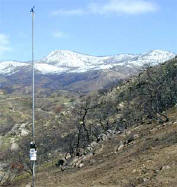 The Sherilton Valley / Descanso Weather Station is located in Descanso California, 40 miles east of San Diego. Locally that's on the southwest side of Mount Cuyamaca at the 3,329' level. Specifically we are located on King Creek which is 1 mile west of Green Valley Falls and 3.7 miles north of the Descanso Town Hall. (See Map) Our weather station is solar powered and linked by radio to a computer which automatically uploads data to this website.
We've been monitoring weather in this area for over 10 years and are currently on our third weather station. Our previous weather station was destroyed by the Cedar Fire on Oct. 29, 2003 .
Click here for Current Weather Conditions
During normal weather conditions we update every 15 minutes. During weather events or Sky Warn activation, we may increase update intervals to 5 minutes.
| | | |
| --- | --- | --- |
| Car Crossing King Creek at Echo Dell | Solar Powered Station | Sherilton Valley |
Rob Horne
rob@creekbed.org