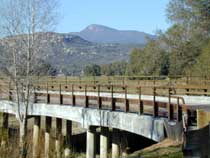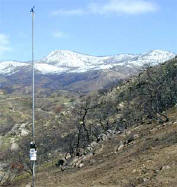 The Sherilton Valley / Descanso Weather Station is located in Southern California, 40 miles east of San Diego. Locally that's on the southwest side of Mount Cuyamaca at the 3,329' level. Specifically we are located on King Creek which is 1 mile west of Green Valley Falls and 3.7 miles north of the Descanso Town Hall. Our weather station is solar powered and linked by radio to a computer which automatically uploads data to this website and many other weather services.
We've been monitoring weather in this area for over 25 years and are currently running two Vantage weather stations along with a CoCoRaHs rain gauge and ET gauge. Our previous weather station was destroyed by the Cedar Fire on Oct. 29, 2003.
This spring we added an ET gauge to help monitor fire and drought conditions.
This summer (2016) we added a lightening detector to help track
the rare but dangerous East County lightening storms.
Current Weather Page
Updates every five minutes with the most current readings displayed on the Weathercam images.
| | | |
| --- | --- | --- |
| Car Crossing King Creek at Echo Dell | Solar Powered Station | Sherilton Valley |
Rob Horne
rob@creekbed.org