NOW
SATURDAY - APRIL 5, 2003
INCREDULOUS
Kurt Vonnegut sometimes writes about the passage of time and the different ways we perceive its movement. It certainly isnít a deep philosophical revelation when I say that time seems to move faster when a lot is going on. Currently Iím in a busy phase and the weeks are flashing by in a blink of the eye.

When I volunteered to do the Descanso Town Hall newsletter I didnít realize that I would also be in charge of keeping the membership records, creating a membership directory, and producing events directories for all the extra activities during the year. What I expected to be a few hours of extra work a month is more like having an extra full time job. Iím not complaining. I actually like the work and Iíve been learning a lot.

Working for a state university has its benefits and one of our perks is that weíre allowed to attend free computer training work shops. So far Iíve taken introductory classes in Microsoft Excel, Access, Word and currently, Adobe Photo Shop. Next week I take a class that is focused entirely on manipulating the Mail Merge process in Microsoft Office. Iím enjoying the classes immensely though the extra activities do contribute to my current perception of time passing quickly.

I spent last weekend in Newport Beach attending the wedding of Catherineís nephew. Iíve always felt that weddings are more for the bride than the groom. Itís a ďchick thingĒ and Catherine spent months preparing for last weeks events. She attended wedding showers, rehearsal tea parties and bridesmaid cocktail parties. The wedding was held on a boat complete with catered meals, speeches, toasts and dancing conga lines. I drank champaign and watched with incredulity.
___________________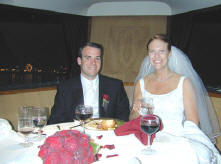 Mathew & Anna Baldridge
THEN
Jan 1, 1967 - Sunday
Today I was driving around on Glorrieta Blvd. and I had my first blowout. I'm surprised it didn't happen earlier because the tire was almost paper thin. I didn't have too much of a problem changing it but it was my first time so I was a bit uneasy about it.
Things around here certainly are erratic. Last summer we were about to starve because my father didn't have a job. Now companies are jumping all over the place offering him work. He quit his job with Ryan Aeronautics and now works in contracts for the civil service. Just a few days ago he mentioned how he might get to work on a contract for the navy worth one hundred million dollars. It seems the navy needs a a contract concerning all the new military crafts to be sent to VietNam. If father can get on this contract it could really help pay some bills around here.
Here it is January and today I actually got sunburned sitting on the porch. Where else but California.
I just saw the movie "A Night to Remember" today for the third time on TV. As strange as it may seem the movie really put me in a traveling mood. There's nothing I'd rather do now than to jump on a plane or ship and take off for some interesting place.
Jan 7, 1967 - Sunday
Today I met my brothers girlfriend who was also born in Samoa. She, like me, really wants to go back and see the place. In the job father has now, he might be able to work me into a space available ride to Samoa. This of course is very doubtful but it's nice to think about it.
Today I sat on the patio and really got some sun. Grandma measured the temperature and it was an unbelievable 101 degrees. Of course the patio is protected from the sea breeze and is directly in the sun. It sure seems strange to be that hot in January.