NOW
Wednesday - April 9, 2003
Weeds
___________________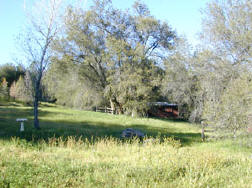 It's the best time of year in our valley but in a month, all that grass will be brown and fuel for a brush fire. If I mow now it will grow back so I try to time my work to when the rains have stopped and the growth has just started to fade.
THEN
Jan 16, 1967 - Tuesday
Last Saturday Bill and I went to the dump just to look around and we came across an old Mexican lady. She was looking for her little boy who had been missing for a week. Her story has been in the news a lot lately. She was on the verge of tears but we couldn't help her a bit. The confusing thing is that on the news the night before, I heard that the child had been found dead, three miles south of the dump. I can't figure out why she was still hunting for him. We thought of mentioning it to her but she looked so pitiful and worried that we didn't want to worry her more by telling her something we weren't sure of in the first place. I was half asleep when I heard the news broadcast so I must have misunderstood it.
I was walking to school today and I guess I was late but a boy driving by stopped and offered me a ride. It was a small thing but it made a big impression on me. I had never seen the boy in my life and for someone to do something like that in Coronado is quite unusual. Our town has a reputation for being full of rich unfriendly snobs.
The reason I admire the guy is because he did something I would be too chicken to do. I don't know why but if I were in that boy's shoes I wouldn't have stopped. For some reason I'm afraid to go up to complete strangers and give them a hand. When you stop and think about it there's no reason to be afraid at all. What can the person do? Scream at you and tell you to mind your own business? If he does he's not a human being.
I know the boy who helped me must have had some fears too. We hardly said a word on the way to school. I guess I was so flabbergasted I couldn't think of anything to say. This brings up another point. I guess I'm afraid to help people because I'll be put in a situation where I'll have to talk. Well this guy didn't say anything but I consider him twice the person I am. From now on I'm going to try to be more like him. Shyness is holding me back too much.