NOW
Saturday, August 09, 2003
Some Just Don't Deserve a Title
Just a quick update today. Iím still operating on hobby overload with too many irons in the fire, so to speak.
Moving ahead with my quest for a HAM radio license and thanks to Kathy at Past-Imperfect , have been taking sample tests on the internet. Itís the entry level Technicians exam so I'm not talking about a high level of technical information. Itís comparable to taking a written drivers test; I just donít have the time to do it. Odd that Iím going through this so I can talk over the radio to complete strangers. I wasnít exactly endowed with the gift of gab. Iím mostly just interested in the technology.
Still having trouble updating my websites due to problems with the server. They want to erase all my files and have me re-publish everything. With a dial up connection, that can be quite a chore so I may be putting it off till I get back from vacation. I can still post individual pages though when I do that, many of the navigation links stop working. Itís my fault for using MS FrontPage as an editor. Dream Weaver is the editor of choice by most website builders but Iím not ready to start over learning a new program.
Iíll be spending today doing lofty noble stuff. Sending out the newsletter for the MDL and Iím starting to get some stuff for the Town Hall September newsletter. Need to catch up on my editing chores with the ODP and, Iíd like to work in a nap sometime. (So much for noble) Dang, should probably get started. Oh yeah, need to get out the back-pack and start preparing for a trip on the 20th up Paradise Valley in Sequoia/Kings Canyon.
Temperatures over 100 today so I expect Iíll be staying inside trying to stay cool.
THEN
July 3, 1967 - Monday
Tomorrow is my first day off from the vet hospital in a long time. For the last few days I've done nothing else but work which is why I haven't written.
Today I almost got into a fight with Ron. It was very childish. He was throwing cat food can tops at me and I finally got fed up and threw some cat pans at him. It was all meant in fun but I don't thing he appreciated it. He was awfully quiet from then on so before I left I apologized. (That was pretty hard because I think he deserved it.) Oh well, he acted nice enough and I think by the time I go back, it will all be forgotten.
Tomorrow is the Fourth of July parade and it is the biggest thing that happens around Coronado all year. Everyone is all excited about it but personally I don't give a darn. I'll probably sleep all through it. I don't consider it worth the trouble of fighting my way through thousands of people just to see a bunch of horses march by.
Mother and father are going to ride on the Coronado Playhouse float so maybe I'll got just to see them.
After the parade mother is having tons of people over for another party. It should be a pretty big deal due to the preparation they've been going through for the past couple of days. I don't care for big social get togethers but since there will be a lot of good food maybe I'll stick around for a while.
_______________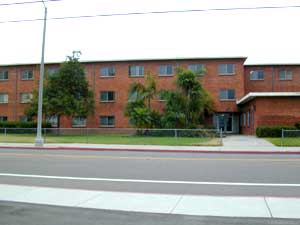 SDSU West Dorms - Soon to be demolished for new tennis courts (My brother stayed in these in 1964)