NOW
February 29, 2004 - Sunday
We've finally been getting some rain and luckily, its been spread out enough so that the hills don't wash away. On the other hand, the creek is silting up from all the sand washing down stream. That could cause flooding if we have a "gully washer".
On Tuesday I re-built my burned weather station. I enjoy tracking our weather events and posting the information on my website. Some of the locals enjoy it and it's my one "claim to fame" in the Descanso area. The Union Tribune has been contacting me for updates on flooding in the burned areas and I got my name in the paper on Thursday. A one line quote but I said it with flair. ;-)
Friday was Catherine's birthday and being an outdoors kind of women, she wanted to climb up Mount Cuyamaca to check out some of the fire damage. Over the years we've been following the growth of the "one-of-a-kind" Cuyamaca Cypress which only grow in that area. It's a small grove of about 50 trees that have been on the endangered list. Unfortunately, none survived.
From our house it is only a four mile round trip though the terrain is steep and the weather was rainy. While Catherine is the outdoor person, I'm the gadget geek so of course, had my GPS devise with me.
Our stats: Total Time 4:25 min, Stopped Time: 1:49 min, Moving Time: 2:36 min, Moving Average: 1.5 MPH, Overall Average .9 MPH. I suppose I could post a little map showing our path but gee, I wouldn't want to sound obsessive (wink, wink, nudge nudge). Instead, here's a picture of Catherine and some of the burned trees.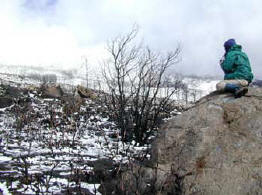 THEN
August 28, 1967 - Monday
Today I cut Dr. Smiths yard and it impressed me a great deal. Not the yard but the house. He has an enclosed swimming pool, his house looks over the bay and it has a whole side of windows to appreciate the view. The living room is fancy as heck, it looks like something out of a movie. In other words Dr. Smith is loaded.
It almost inspired me to set off on a career in veterinary work but I realize I don't have enough aptitude.
September 1, 1967 Friday
Today a new couple came to work full time at the vets. Maybe they'll stay longer than the last but you really can't tell.
Last Tuesday I was in a car accident and really smashed Barry's car. A car hit me broadside and although I feel I am more to blame, my father feels the other man was also at fault. Needless to say this screws up things for me as far as insurance and licenses in the future.
Barry's rear side door is smashed in and it still runs but doesn't look too hot. Barry will be home in nine days so I'm a bit worried as to what to do.
September 9, 1967 Saturday
"Shit"
Today I worked 8 hours and cut Dr. Smiths lawn on my lunch break. He really takes advantage of his workers and I can't seem to say "No" when he asks.
I took a dog to the airport today for the hospital. He was going to Washington D.C. and I wish to hell I could have climbed in the box with him. His name was Rusty.
Barry will probably be back home tomorrow and school starts Monday. Thus ends another one of my screwed up summers.
Oh yeah, I got a ticket for the accident too.