NOW
Sunday, March 14, 2004
Dumpster Day / Month
The dumpster came, the dumpster came! Yahoo, a big event for us. We lost two buildings along with a couple of barns and the burned ruble has been sitting since October, waiting to be hauled off. I donít have access to a skip loader and since Catherine prefers the hand method, weíve been picking through the wreckage, loading it on my truck and then to the dumpster. The dumpster is one of those big construction types with swinging doors so you can walk in to dump your load.
This is the first of a least two trash containers and it is dedicated to metal debris. No problem; all the buildings had metal roofs and they were filled with bulky refrigerators, freezers, washers, air conditioners etc... This dumpster is already about full and I can see that we can use at least two more.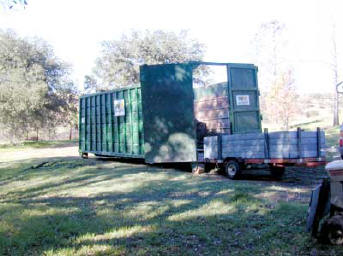 ________
The weather has been beautiful. Sunny, warm and spring like; itís the best time of the year in our area. In two months weíll be back to scorching hot, desert like days when you want to hole-up inside all day.
I'm still getting used to being retired and Iíve had lofty ambitions about starting a daily exercise routine. With 20 acres of recently cleared (burned) land, Iíve been able to scratch out a trail that allows for a twenty minute walk without repeating myself. Catherine got me a weight set for my birthday and I try to do a modest workout after I complete my walk. Like I said, these are lofty ambitions. Not sure Iíll be able keep up this routine during the summer heat.

Weíre still trying to clear out my dads house but with my clean-up duties at home, my brother an sister have been doing the bulk of that work.
THEN
October 5, 1967 - Wednesday
I realize its been a long time since I've written but with school back, I haven't had much time. Nothing spectacular has happened anyway.
Even now I'm pressed for time so I'll fill you in quickly. I haven't gone to court yet, we're still waiting for word. I've been going to school and its been pretty screwed. I bought a Model 'A' Ford and I spend any free time fixing it and fixing it and fixing it.
The couple working at the vets were fired yesterday. The wife was a drug addict and stole quite a bit of Morphine. Now she's in jail. I had gotten to know them quite well and they seemed to like me. Oh well, now I work all alone again everyday after school.
That's about it for now. Maybe I'll write again some day.
P.S. I'm kind of fed up with the world.
October 24, 1967 Tuesday
I haven't been writing because I'm too lazy. I don't have any real hard subjects this year and I'm really sloughing off on everything. Even if I do have some homework I rarely do it.
Something has been building up in me since school began and I suppose it started way before that. I have been really sick and tired of this town, school and my parents. This may sound overly dramatic but sometimes I feel so restless I nearly jump up in class and scream. I really want to get away from this place and if you want a clear cut reason, forget it because I'm hardly sure why myself. I've become tied down to my job and school and parents. I've seriously considered taking off but I'm too chicken.
My parents are going back east on November 27 so for 10 days I'll be left alone. They don't know how happy it will make me. I may not get out of town but it's just as good.
October 27, 1967 - Friday
Remember the girl at school I mentioned that I liked? Her name was Linda Barnes and last spring she had me sign her yearbook.
Today she married a sailor and dropped out of school.