Wednesday - January 29, 2003
"Far Out"
Iím taking small steps toward feeling better. Some steps go back but overall, the trend seems in the right direction. Most of my pain now seems in areas unrelated to the surgery. My backs been aching for no reason and itís really hard to stay on my feet for any amount of time. Iím also getting night sweats. I donít feel hot but I wake up literally dripping. Iíve never had this happen before but it doesnít sound like something to be too concerned about.

Iíve been spending my day time doing town hall paper work or playing insipid games on the computer. I downloaded a jigsaw game that can turn my old photos into puzzles and Iím surprised at how well that has helped pass the time.

The TIVO has been having real trouble keeping a backlog of programs on its disk. The current programs I watch are on a short list so I've been browsing the golden days of television looking for suitable entertainment. Some of the old shows have surprisingly passed the test of time. ďHave Gun Will TravelĒ and the half hour episodes of ďGunsmokeĒ are exceptionally good. On the other hand, I tried watching ďEasy RiderĒ and almost choked. Jeez! At the time, I thought it was a great movie. Sometimes I get nostalgic for the good old hippie days till I see something like that. Heavy man! What a trip. I think I'll have Catherine cut my hair.

I go in on Friday to have my final appointment with the doctor and next Monday, I start work again. The timing seems about right.



October 29, 1966 Saturday
Ever since I got that stupid bus boy job Iíve been having trouble. Take last week for instance. Monday I had religion class at 7:30, Tuesday I had free, Wednesday I worked at the club from 5:30 to 10:30, Thursday I had to baby sit, Friday I had off but, I had to work Saturday and Sunday night at the club. Itís not that I hate work, but I have enough trouble in school as it is without having to work every night. After slaving all week, a guy likes to have at least two days that he can relax but I havenít had any. Mother got me the job at the club and sheís not about to let me quit.
Tonight though, Kirk, Pat and I are going to "Navy Night" at Disneyland. We paid 2 dollars so we have the right to go on as many rides as we want. Weíre taking the bus and we should be back around 3 in the morning.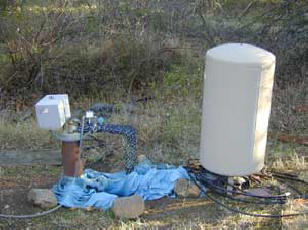 "A Modern Country Well"