Saturday - March 22, 2003
Memories
In 1970 I participated in an anti war demonstration. I was a kid and basically following the lead of the older, more articulate peace activists. I forget what phase of the anti war movement this was but it was coordinated with other groups demonstrating around the United States. Thousands of people marched through downtown San Diego and I was with them, giving the peace sign and singing Beatles songs.
After the march I was on the phone discussing the day with a friend without knowing my father was in the other room listening on the extension. My father, the retired naval commander, took exception to my behavior and in short order, I was asked to move out. It really wasn't a big deal. My father was always throwing my brother out but usually, within a day, they'd be back at the next cocktail hour arguing about something else. On my part, I had read about the generation gap and I knew it was my role to be a martyr and leave. I packed up and moved to Hollywood where I spent a semester at L.A. Valley Junior College. It was one of the most ridiculous periods in my life. Ah, memories.

These days I have trouble forming opinions. I look at the different positions and when all is done, I'm at a loss to come down positively on either side. All I can say is that I think the people on both sides of today's protests are patriotic Americans.
___________________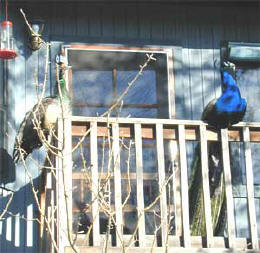 Yesterday they were honking at a Bobcat
December 24 - Saturday
About a week ago Pat and his father were experimenting with some hot air balloons. They consisted of cleaning bags with a built in candle to supply heat. We had a big gathering as we launched them and they really worked well. Anyway, a few days later Pat's father was at a party and he let more balloons go. They didn't think much about it until the next day when the paper said fifteen people in Coronado had seen U.F.O.s.. For the next few days there was a flying saucer scare all over the city. At first I wasn't convinced the objects the people had seen belonged to Pat's father until Kirk's mother saw the balloons on the news. The police had found them somewhere and I think that puts an end to Pat's hot air U.F.O.s.. I wonder what the police would do if they found out who's been doing it.
December 28, 1966 - Wednesday
Well Christmas is over and gee whiz, I didn't get a surf board, car or an English sheep dog. Oh well, maybe next year. I did however get the model of a V-8 engine and a number of other good things. On Christmas day we got up for six thirty mass and returned home by seven thirty to open our presents. We haven't done anything special since then but my parents are planning on going over to San Diego to see "The Sound of Music"
The other day Kirk and I went over to see "The Bible". It was good in some parts but in others it was pretty bad.
I've really been running around doing errands. So much that I think the car is falling apart. The engine sounds like a tank firing machine guns. I have to go to the movies tonight and I hope I can make it down the Strand.
A week or so ago Walt Disney died. He is one man that I really admired.