NOW
Saturday - May 31, 2003
SMOKEY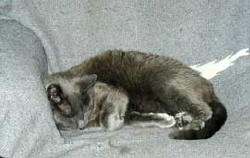 Yesterday on the way home I stopped at the El Cajon Animal Shelter to browse cats. Iíve been thinking about it for months and it certainly wasnít a spur of the moment decision. Itís was one of those deals where I was spending so much time weighing the pros and cons that I finally just said "do it".
I had decided that I was going to take the ďknightlyĒ route and adopt an animal that wouldnít be the first choice on most peoples list. Kittens go fast but I have a soft spot for the older guys who usually get passed over. On the other hand, our house is small and since this cat will be primarily indoors, I didnít want to take on any behavioral problems.
Smokey is a 9 year old gray Siamese mix and he had been at the shelter for about a month. The note on the cage said that the previous owner had moved into an apartment and couldnít keep him. (Of course they always say that) I could tell he wanted attention cause he was sticking his paws through the cage bars trying to grab anyone that passed by. 9 years is getting up there in cat years and most of the other visitors were passing him and heading for the kittens at the other end of the room. The kennel worker opened the cage and Smokey made it clear that shyness wouldnít be an issue. This guy is well adjusted. A half hour of paper work, an identification chip injected between his shoulders and we were headed home together.
Smokey doesnít need time to warm up to people. The second he was out of the box he was following Catherine and I around, rubbing up against us and purring loudly. No hiding under the bed for this guy.
The adjustment period now begins. Weíll be watching each other while we settle in and get acquainted. Because of the coyote situation I'll only be letting him out when I'm with him. I had him out for about two minutes today but he really seemed more interested in getting back in. Amazingly, within that two minutes he caught a lizard which I had to rescue. We like lizards around here but mice are fair game.
__________________
THEN
April 8, 1967 - Saturday
I got up at 5 this morning and went to work at 6. In all I spent 8 hours working. Itís pretty interesting work but itís hard. I seem to be learning fast although new things keep coming up.
Today I moved dogs back and forth between cages and gave one dog a bath. Itís not too easy. We have all sorts of different shampoos to use and special rinse that we put on last. I have to trim their toenails which is pretty tricky. After the bath we have a special cage that dries them really fast. The dog I bathed today was a Samoyed and heís just a big ball of white fur. After he dried I had to comb him out which took about an hour. I must have filled two barrels with white fur that comes out when you brush them. (Seems like there should be a use for that stuff but we just throw it away). I can handle the dogs a lot better now. It just takes practice in the certain way to move them around. I hope I can stick with this job but only time will tell.
I saw ďIs Paris BurningĒ and ďAlphieĒ tonight with Kirk. Both pretty good.
April 15, 1967
Today is my day off from work so Iíve been loafing around a lot. I really donít mind working on Saturdays because thereís nothing else to do. I only got bit twice this week and not really bad. Iím beginning to know the work pretty well and Iím enjoying it more.
Most of the dogs that come in are quite nice but occasionally we get a fighter. I still havenít perfected the art of wrestling with them yet but itís getting easier.
I get paid Monday and Iím looking forward to that. It should be pretty good. Iím not sure what Iím saving for (probably a car).
_____________