NOW
Saturday - April 12, 2003
More Weeds
We're having beautiful weather and with the time change, it really feels like summer. Unlike last spring, we've had sufficient rain to green up the surrounding hills and sprout the annual wild flowers. It's my favorite time of year and I've learned to savor the moment while it lasts. Soon the tall grass will turn brown and I'll be hustling to clear the property of fire fuel. Timing is important when planning my brush clearing activities. If I start too early, the weeds will grow back and I'll have to re-do my efforts. I have to look for that perfect window of opportunity when the weeds are just starting to decline and the spring rains have ended for the season. Even then, I'll be looking towards a good three weeks of running the weed whacker and pushing our brush-chipping mower.
On our property, it's a big job that can get even more complicated if the forest service gets involved. The forest service has stringent requirements regarding what is considered fire safe and we don't always see "eye to eye". Catherine & I lean towards being "tree huggers" and Catherine is particularly sensitive about preserving a number of native plants that inhabit our area. For my part, I have to admit that most of the spring growth looks like weeds to me. Catherine, on the other hand, knows the scientific name of every innocuous looking plant that grows for miles around. One wrong move with the weed eater and I'll have some explaining to do.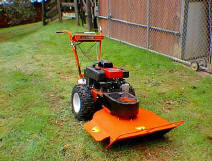 THEN
Jan 22, 1967 - Sunday
Today is what I consider almost perfect. It's raining quite hard and it's very dark and gloomy. This is the perfect kind of day to sit home and catch up on all the work I've sloughed off on.
I'm faced with another problem now. I signed up that I was interested in oceanography at school. Yesterday a man called up to tell me that an explorer post for people interested was having a meeting Tuesday and I was invited. I'm really interested but the thing is I still have Civil Air Patrol. In both organizations you need a uniform and they aren't cheap. The Civil Air Patrol turned out to be a military organization and they never mention any plans to help us get a pilots license. That's why I joined and now, father has lost all interest in joining the flying club which was what started all of this in the first place. Of course my parents think the C.A.P. is just what I need and I'm afraid to quit. They're still annoyed with me for quitting the Officer Club job
This should be a very busy week for me because of finals and a few other things. On Monday there's a special religion class deal going. I don't know if I'll go or not. Tuesday I have the explorer thing. Wednesday is the first day of finals. It'll be a half day which is nice. That night I hope to go see the movie "Born Free". Normally I wouldn't but I've really been looking forward to it. Thursday I have finals plus a special swearing in ceremony at the C.A.P. Friday is the last day of finals and the only night I have free.