NOW
Wednesday, April 07, 2004
LOOKING UP
Things are looking up in the Southern California burn areas. Weíve had some rain and the landscape is turning from black to green. Wild flowers have sprouted and grass is growing. Since October, after being scorched by the burning undergrowth, the evergreen oaks have stayed completely brown. Now theyíve started to recover and leaves are sprouting on the more protected higher branches. On the other hand, the shorter scrub oaks faired less well and I expect they will be reminding us for years about Octoberís fire storm. Even they have begun to sprout new growth at ground level and in a few seasons their burned branches should be overgrown. It been a depressing six months but spring is here and nature is recovering with enthusiasm.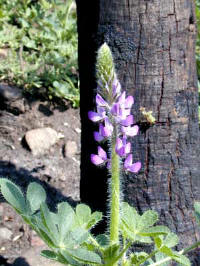 Before this valley was subdivided, it was a seasonal campground for the Kumeyaay Indians, then it became a ranch and finally it was broken up into 10 acre parcels. We were lucky enough to be able to purchase two joining properties and weíve been working hard at returning them to their former native environment. The previous owners were horse people and the property was strewn with rotting corals, abandoned chicken coops and rusty barbed wire strung haphazardly from tree to tree. Old truck tires, car parts and abandoned appliances dot the landscape.

In a peculiar sort of way, the fire did us a big favor. Burned tires turn to little clumps of manageable steel wires that easily go into the dumpster. The denuded under brush has allowed me to wander the wooded areas with a bolt cutter and Iíve been gathering up miles of barbed wire. The frames of the chicken coops have burned away and Iíve been able to easily roll up the left over chicken wire. Iíve been building trails in areas that were previously inaccessible and my goal is to create a nature walk where we can hike at least a short distance without seeing any signs of human habitation. Itís fun and Iím actually having a good time.
Things are looking up in 2004 but in 1968 I was obsessed with existentialist nausea. It was 25 years before Prozac and I wish I could time travel back and give myself a dose.
THEN
March 26, 1968
A few weeks ago Bill and I went for a drive up to Point Loma. It's a very picturesque area with the Pacific Ocean on the west and to the east you can see all over San Diego . Point Loma is partly a military reserve however a large portion is set apart as a cemetery for servicemen and their dependents. As Bill and I drove through the cemetery we pulled down a restricted road into a small lot carved out of the side of a cliff. Directly in front of us was the steep rock face that dropped hundreds of feet down to the ocean.
From where we stood you could see for miles. It was extremely windy but with a sullen quietness in the air. A feeling of sadness was added because to our left was the grave yard. I walked along the edge of the grass reading the markers and found that the graves belonged to the children of military personnel. Many had no names and most were listed as being born and dieing on the same day.
As I walked along the tombstones I was aware of my surroundings and the words on the markers. I was high on the side of a cliff on the edge of a graveyard and it seemed like the most desolate place on earth. There wasn't a sound except the strong and frequent gusts of wind. The emotions that built up in me are hard to describe. All the bleak agony, forlornness, loss, despair and death crammed into that beautiful open space. Rows and rows of dead children.
______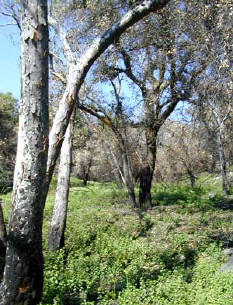 The Creekbed Hiking Trail