Sunday, December 15, 2002
Rain Watch
It's a beautiful day though we we're hoping for rain. The weather people are talking about a storm this week but I tend to be skeptical. I feel like I did when I was 9 years old living in Newport Road Island. We'd hear rumors about an upcoming snowstorm and I'd obsess on the sky, looking for the first flakes and thinking about "snow days" off from school.

Here we're hoping for enough rain to get the creek flowing seriously. The creek is our indicator of what kind of summer we'll have. A flowing creek means we can finally relax and water normally through the summer. A dry creek means water rationing, no garden and the continued desertification of our area.

I'm not really in the Christmas spirit this year. Maybe after I see "It's a wonderful Life" for the 10th time I'll change my tune. Gotta set my Tivo to start looking for it.

Catherine surprised me the other day by mentioning that she could use a laptop computer. Gee, in typical "Guy" fashion I was thinking I might get by with the new stove I bought a few weeks ago. Anyhow, Catherine rarely gives a clue as to what she'd like so when she does drop a hint, I take her seriously. Yesterday I rushed into town before the crowds and got her a Sony laptop. I was able to get in and out before 8 A.M. just as the crowds we're beginning to grow.

I have the next two weeks off though I haven't got anything planned. I was thinking I'd be doing a lot of town hall work but the other volunteers are busy with their families so I haven't been getting any assignments.
I go in for my gallbladder surgery on Jan 21. Whoopee!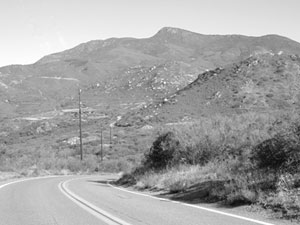 The Road Home
(Practicing my b&w photography for the newsletter)
July 24, 1966 Sunday
I haven't been doing much lately which is why I haven't written anything. I took drivers training about two weeks ago and I got my license. Father doesn't want me driving yet because we can't afford the insurance. Every once in a while I sneak out and do a bit of driving anyway.

I met a guy in drivers training and lately we've been hanging around together. We went to the Del Coronado and passed as some rich nephews of a man we thought was staying at the hotel. This gave us a chance to go all over the hotel. We met some girls there and told them we were from England. They were very impressed and showed us around.

Pat and I haven't done anything lately. He's been making models and I've been helping Bill, my new friend, set up a new aquarium.

My newest interest is in Africa. I've been studying up and reading books on it. I wonder what I'll be interested in next.