Friday, December 20, 2002
Eat, Drink & Drive?
Hazardous weather statements and winter weather warnings were the headlines for todayís San Diego Mountains. Naturally I suspected the usual media hype so Cath and I jumped in the pickup and headed out to see for ourselves. I like to drive the back streets of the county so I headed north on a dirt road that circumvents Mount Cuyamaca and ends up in Cuyamaca Rancho State Park. Itís a slow 2 hr ride that crosses several streams and goes through some beautiful mountainous scenery. We started out in a moderate rain that eventually turned to snow as we entered the park. I donít have chains but itís a 4wd vehicle so we didnít hit any conditions we couldnít handle. There was one spot on a downhill where we lost traction and spun about 180 degrees but luckily I was going slow and able to stay on the road.

Our goal was the Lakeland Resort, home of the famous Lakeland Mountain Burger. Itís a combination bar / restaurant that has become a traditional stop on our backcountry drives. It was 10 a.m. and snowing heavily by then and several visitors were hanging out, drinking Bloody Maryís and beer while discussing the hazardous driving conditions. The road was closed due to an accident and these guys were waiting for things to clear up. I guess they thought a few drinks would relax them for the treacherous drive down the mountain. When a snow plough passed in their direction they all tumbled into their cars and followed it out of the park.

Catherine and I stuck to the coffee and hamburgers and had an un-eventful drive home. No snow at our elevation though itís possible weíll get some tonight.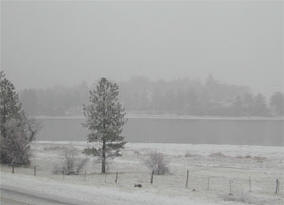 Lakeland View
August 11, 1966 Thursday
Well, father got a job this Monday with General Dynamics in San Diego. Itís about time because things were getting pretty desperate here. It got to the point where I was feeling guilty asking for money for the movies. Last Sunday father got fed up and went to Washington to look for a job. Wouldnít you know heíd get one here the minute he got out of Coronado. He should be back in a few days to take the job.

With father gone and the car here, Iíve been having a great time. I drive all over town in the fancy convertible making everybody think Iím a rich teenager.

Pat seems to have gotten the idea that heís been loosing friends so heís calmed down a bit. Last night I met him after coming home from a movie so we decided to sleep out. He told his parents that he was sleeping over at my house and I said I was sleeping at his. This gave us the opportunity to sleep anywhere we wanted. We discovered and empty house in the alley and it was just luck that the back door happened to be open. It was a rather small house but it gave all the comforts of home. I figured it would be too risky to sleep inside so we put sleeping bags in the back yard. This way we could use all the facilities and still sleep out. After eating some cookies and drinking some Tabs, we got to bed around 11:30. We woke up at 1 a.m. and I discovered that the mosquitoes had been working on me. The itching went away but I still had trouble getting back to sleep. At 4:00 we woke up again and this time took a walk around the neighborhood. We must have made a funny picture lurking around in the dark because I just wore a t-shirt and scivy shorts while Pat had nothing on but an athletic supporter. We went to sleep this time with no trouble and woke up at 7:30.

Iíve been thinking lately that if I want to see the world but I donít want to be a tourist maybe the Peace Corps is for me. I plan on writing and getting more information. There doesnít seem to be a better way to see the country. Besides going somewhere off the beaten track I could even help people. Iíve always found it easy to help people and this could be just what I want.