Monday, December 30, 2002
I Love a Parade
Actually I donít care for parades very much but somehow Iíve managed to be in about 10 during my life. I donít think Iíve ever watched one from beginning to end. My uncle was an antique car buff and we used to do parades in his Model A Ford and my mom was active with the Newcomers Club in Coronado and I pulled their float several times. I also drove the float for the Democrats of Coronado Club back in the 70ís. Coronado Calif. must have had about three democrats and we were all on the float. (Itís a major military town) Since I voted for Ralph Nader last election I guess Iím no longer a Democrat, but thatís another story.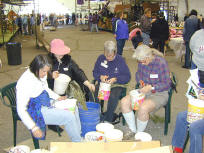 My Team Members
I wonít be driving it but I did get to help decorate 'The Guide Dogs of America' float for the Rose Parade this New Year. I canít say that my efforts were a major contribution but I did spend the afternoon with a bunch of women bundling Babyís Breath into bouquets and trimming the petals off of Blue Statis. Ummm, then I spent the evening drinking beer with the guys? Ah, never mind!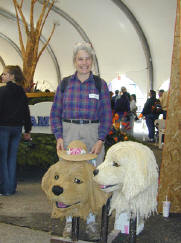 The original notify list seemed to have stopped working so I've changed to a new service. Those already on the list will be receiving an e-mail soon. Sorry for the inconvenience.

The 60's journal will return with the next entry.