February 27, 2003 - Thursday
Smugglers Cave
Today is Catherine's birthday so I took the day off and we headed for the backcountry roads. Catherine is more of an outdoors person than I am so when we're looking to celebrate a special occasion, she'll choose an outdoor activity every time.
It was cold and raining today so we headed east into the desert on the chance that we might find some sun. I was looking for a place called Smugglers Cave that is a few miles out a jeep trail, east of a place called In-Ko-Pah. It's really a neat spot that was originally inhabited by the Kumeyaay Indians and later by immigrants walking in from Mexico.
Instead of sun, it was raining nicely with temperatures down to freezing. We had to hike in about a mile but with raincoats and some breaks in the clouds, managed to stay dry.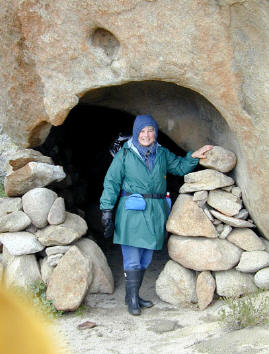 The best news of the day was finding our creek flowing when we returned home. It's been two years since that thing had water in it and it's a big relief to hear the stream flowing again. Maybe I'll be able to have a garden this summer.
Dec 3, 1966 Saturday

A lot has happened lately that I feel I should write down even though Iíll be saying things that Iím ashamed of.

First of all I finally got fed up with the job at the officers club. I got tired of giving up my weekends for a job that didnít pay well and was too much work. I realize that Iím a lazy bum that canít stand hard work and it has me worried, but I just donít care enough to go to work.

My parents blew up at me tonight and told me what a stupid bum they think I am. Theyíre very annoyed that I donít keep a job since my father has to work and slave to feed me. The only thing theyíre worried about is if they get their fair part of the deal. That is, as long as they support me I ought to do something to make it even.

I donít think itís fair that I should have to work on my weekends after having to go to school all week. I know itís confusing when I say I think I should have kept the job but it was my job so I had the right to keep it or quit it.

All my life my parents havenít shown much interest in anything I do. When I was in the cub scouts and boy scouts they were happy that I was joining something but when it cam for them to attend one of the dinners or programs the organization put on, they only went (if at all) very reluctantly. Then they would leave when it was half over and at home they would talk about how stupid the other parents acted. All through my life my parents have been criticizing other people and although I hate to say it, I have grown up with a very low respect for my own mother and father.

They criticize other people for liking base ball and they even criticize other people for working around the house. You canít do anything to please them.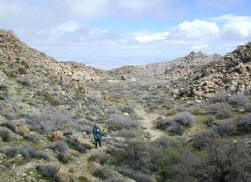 Trail to Smugglers Cave