NOW
July 25, 2003 - Friday
WMD
It's been a hot busy week. We've been a person short for over a month and I've been trying to cover his area a well as my own. It's the summer session at SDSU so we still have a bit of activity on campus though nothing like the regular semester. Summer on our university is when we try to do the construction that can't be done during the regular semester. A busy time of year for me.
This week I was at Cox Arena making repairs to the irrigation that was damaged during some peripheral construction. Cox Arena is one of those high profile areas on campus that management takes seriously. This Wednesday the Dixie Chicks were performing and for some reason they felt that the Arena should be in pristine condition for the event. I've attended a few concert in my time and never paid much attention to the gardening outside the building. Whatever. (Spent the night before a Rolling Stones concert sleeping in the parking lot at Anaheim Stadium and I don't recall any landscaping at all. Just the smell of urine and spilled beer. I digress).
San Diego's PBS affiliate is broadcast from SDSU and it's one campus function that I'm actually proud of. The football program means nothing to me but at least we have Sesame Street.
Recently I was working on the back-hoe searching for a water main when I hit the conduit that houses all the fiber optics going to the PBS station. Man that got peoples attention. Luckily I didn't break the thing but a few more inches and I would have been on the local news. Dodged the bullet that time.
I'm not unfamiliar with hitting important utilities with the back-hoe. The last time was at the Life Science building when I felt a barely perceptible resistance while digging a trench. I was oblivious till I noticed people leaving the building and complaining about working in the dark. Opps.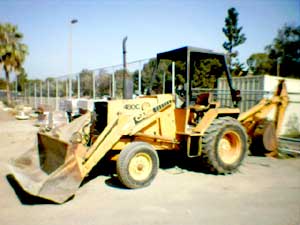 Weapon of Mass Destruction
THEN
June 25, 1967
I worked all day today and I must say it wasn't bad. At least Ron wasn't there so I had enough work to keep me busy. If it wasn't for him I'd like to work full time. I keep thinking of the money I'm making and it makes everything worth it.
Because of work I've stopped seeing my friends and now I've even gone further. Lately I've been home less and I've been seeing less of my parents. It's almost if I was a border instead of living here. I hope it stays this way because I've become kind of sick of my parents. Every time I talk to them they say things I can't stand or disagree with so I've been avoiding them as much as I can. (I guess I've been going through a phase).
I've been thinking about all my friends and relatives and I've noticed how different they are from me. I've really grown to the point where I can't stand them. The funny thing is I can't determine just who I am or what sets me apart from them.
Whatever is happening to me has me a bit worried. In today's society you have to conform and I'm not even close to being like the other people I know.
I got into a big fight with everyone tonight and they all seem to think I have some deep dark secret I'm not telling them about. They think that's the reason I mope around. Little do they know my problem is them.
June 26, 1967 - Monday
I tried to stay away from home as much as I could today but besides the beach, there's no place to go.
I went surf fishing tonight hoping to be alone but, as usual, mother butted in and sent Chris down. Chris is a boy staying with us until his father gets home.. I tried to get out without telling anyone exactly where I was going but mother made a federal case out of it and pried it out of me.