NOW
July 4, 2003 - Friday
A short week for state employees and many have started the holiday early. Yesterday we had a barbeque for the student workers and I donated a crock pot of chili to the cause. Many of our students workers this semester are from India and also vegetarians. Makes having a barbeque a little difficult but we got by. After all, this is potato salad season.
I've been the only one in the shop this week but I'm not complaining. It's been just busy enough to make the days go by quickly.
Not much going on. There's some talk about the California governor recall but I don't know anyone who really believes it will happen. I did sign the petition though I'm skeptical that anything positive will come from it. The lack of a state budget has a direct impact on how I do my job. As it is now, I have to go to our vendors and ask them to honor our purchase orders even though they won't get paid till the budget is signed. I really hate having to go "hat in hand", begging these guys to front us the money. Seems like Governor Davis should handle that for me. I bet they wouldn't turn down Arnold.
________________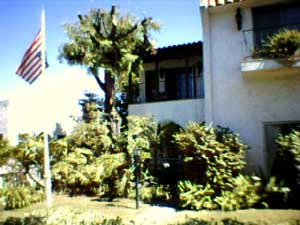 I stopped by my Dad's yesterday and noticed that he had the flag upside down. He wasn't making comments about current politics, just an honest mistake.
THEN
May 30, 1967 - Tuesday - Memorial Day
Last Wednesday Dr. Smith said he liked the work I was doing so I got a nickel per hour raise. That same day a cage tipped over and a bunch of bleach pored in my eyes. Man it smarted.
Yesterday when I went to work I found they finally hired someone to take my old bosses place. He seems like a real nice middle aged man. He and his wife will both be working there. Tomorrow I go in at 6, probably for the last time, to show him around.
Although they like me, my job isn't too secure. The other boy has worked there a year so he'll probably be doing most of the summer work. I wouldn't really mind not having to get up at 5:30 everyday but I would miss the money.
No school today so I could goof around a lot last night. Bill and I drove down to Imperial Beach to the movies. They were crumby so we left before the second one was over. We then went to Jack-in-the-Box and got some hamburgers and coffee. After that we drove around a lot talking. I got home about 12:30 ad my parents think I was up to something. We didn't do a thing but I think I'll keep my parents guessing. I don't want them thinking I'm an angel.
While Bill and I were talking we really got on some personal subjects. Every teenager has certain problems he can't discuss with his parents and sometimes even other teenagers.
I "think" Bill trusts me so we were able to get into pretty deep subjects. It was good because you find that some of your problems aren't as unique as you thought they were.