NOW
July 6, 2003 - Sunday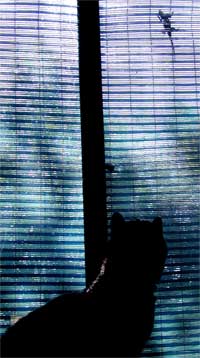 Lizard Torments Smokey
We had a quiet 4th. Catherine made a picnic dinner on Friday and we sat in the back of the truck and watched the fireworks at the Indian Casino.
Way too hot to work outside and I spent most of my time on the sofa with a borderline headache. Been getting a lot of those recently and it might be time for a check up.
A couple came by yesterday to adopt all four of the peacock chicks. The peahen misses them but it's a relief not having to worry about peacocks taking over the property.
THEN
June 5, 1967 - Monday
I went to see "Naked Prey" last night and I thought it was an exceptional movie. I'll probably go again tomorrow. It stared Cornel Wilde who also directed. I really enjoyed the scenes of Africa and I liked the way he portrayed the Africans. He really goofed in one scene though. You could see a Land Rover moving between the trees in the distance.
I'm getting along pretty well with Al, the new man at the vet hospital. He seems to like me and he even said he'd put in a word for me as far as the summer job is concerned. It's really hard for me having a new boss because he's not too familiar with the work. I hate telling him how to do things so I have to use quite a bit of diplomacy.
One good thing about having someone new is that it boosts my moral. I'm no longer the new kid. I'm learning quite a bit more in that the doctor likes to teach both of us the same stuff. I'm no longer just a cage swabber.
I still don't know about working in the summer. As it is the other boy will probably be working but with Al pulling for me I may get more of a chance.
The Beatles just put out a new album called "Sgt. Peeper's" and they've been playing it a lot. So far I really like what I've heard and I'll probably pick it up at the Navy Exchange. I got their "Revolver" album and I really like the way they did the stereo effects.
So far besides the Beatles, I've been listening to Buffalo Springfield and The Jefferson Airplane. This type of music is really different from the surfing albums Barry has.