NOW
March 21, 2004 - Sunday
Maalox Moments
Hot summer days here in Southern California with temperatures everyday into the low 80ís. Weíre on our second dumpster and Iím beginning to run out of steam. The first dumpster was a huge construction type bin that I filled in 5 days with metal wreckage. The driver estimated the load to be in the 6 to 7 ton area and I was kind of proud of myself after doing the whole thing by hand. He dropped off the 2nd bin Thursday and weíve been working on filling it up with the assorted burned rubble that is scattered all over our 20 acres. Catherine is seriously into re-cycling so she is making an extra effort to sort through the mess. She is genuinely concerned about the proper use of landfills and she is almost obsessive in her attempts at doing things right. I have to admit some frustration when she removes and sets aside stuff Iíve already put in the bin.

Our daily routine has become somewhat monotonous. Out early for a couple of hours before the mid-day heat, then back at work after noon usually till itís too dark to see. Catherine took the week off and tomorrow Iíll be continuing by myself for the unforeseeable future.

This is going to take a long time. Weíre working on the north side of the property, concentrating on the burned building that was the home of the previous owner. Unfortunately, this side of the property was only insured for liability so none of the structures or contents were covered. As fate would have it, this was the building where I was temporarily storing many of the antiques that I had just retrieved from my dads house. Itís an extra ordeal sifting though the ashes of what used to be sentimental family heirlooms. Many of the items were handcrafted Samoan art pieces that my parents had collected while stationed there.
I keep a bottle of Maalox in my truck and take an occasional swig as I drive back and forth between the dumpster and debris. Iíve been trying to be philosophic and I sometimes think about the Buddhist philosophy of never ending transition and change. I rely on the Maalox for the other 23 hours in the day.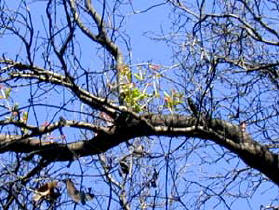 Many of the burned oaks are beginning to show signs of green

THEN
October 29, 1967 - Sunday
Last night Kirk and I went to Disneyland. One of the rides broke down and for 30 minutes we were stranded in the middle of the African Jungle.
We took a mining train and it broke down on the trestle over a waterfall. We stayed there for about 10 minutes.
November 14, 1967 - Tuesday
I've really been acting up lately. Mother went back east because Sheila had her baby. I've been virtually on my own and I've been skipping school anytime I feel like it.
I've been living in kind of a depression, going my own way but not enjoying it. One day I stayed home from school and became so depressed, I went back.
I've been searching out quietness wherever I go and when I stayed home another day, I wandered all over the neighborhood. It was very cloudy and a bit foggy. I went on the roof and sat for a long time enjoying the peace. A gentle breeze was blowing around me and the dark gloomy day seemed to accent my mood. It was silent and peaceful on the roof, strangely quiet like the calm before a storm. I felt like the only person alive and it felt good.
November 25, 1967 - Saturday
Thanksgiving was last week and I had Thursday and Friday off from school. I was supposed to get Saturday and Sunday off from work but one of the workers took off and I had to go in today. It made me mad and the day went pretty bad.
Tonight Bill and I went to a drive-in movies and although Bill fell asleep, I enjoyed it quite a bit. It rained a lot during the movie but that made it more interesting.